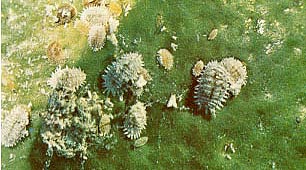 Cultural and biological control methods
Release of predator fauna:
Cryptolaemus montrouzieri
Leptomastix dactilopii
Anagyrus pseudococci
Avoid the use of insecticides toxic to Cryptolaemus.
Critical stage
May-October
Treatment criteria
This pest can only be combated optimally via biological control. Treat only when 20% of fruit show attack and biological control has been unsuccessful.
Active material recommended
Chemical treatment not usually necessary.
Summer mineral oil
Spirotetramat
Chlorpyrifos-methyl
Scientific name
Planococcus citri Risso