Soil management plan at Fontestad
Sustainable development and agroecology
One of our practices to promote better soil management in our fields is injecting ozone into the soil together with our irrigation water. Ozone acts through oxidation to destroy the cells of harmful microorganisms such as fungi, bacteria or viruses, thus ensuring proper growth in our crops.
Thanks to this activity, we have managed to reduce the use of crop fertilizers and insecticides.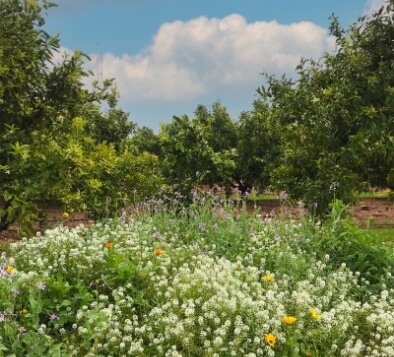 To avoid desertification in our fields, and pursuant to European regulation, we allow plant cover to grow in non-tilled areas of our production plots.
The use of plant cover is key to naturally avoiding certain pests such as aphids. Thus, invasive species gather in these plant areas and do not colonize our crops. In addition, plant cover improves soil structure and has been shown to reduce soil erosion by up to 95%. It also helps to reduce the amount of fertilizers and phytosanitary products being dragged into river beds and reservoirs, and promotes the increase of biodiversity in view of its protective effect, and provides more food for birds and mammals.
Thanks to this practice, we contribute to the prevention of forest fires, on the one hand, and on the other, we achieve a better balance between agricultural activities and the surrounding landscape, ultimately providing more sustainable development in the trade.